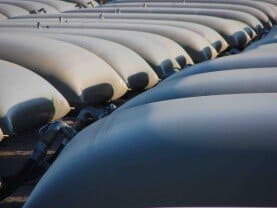 Fossil fuels like Petrol and Diesel are among the most versatile compounds on the planet as there is hardly an industry that does not rely on them for its day-to-day operations. From Agriculture to Transport and the Aerospace sector, all kinds of machinery require fuel to operate. Fossil fuels still dominate the energy market and are a major driving force behind many powerful economies in the world. 
The United States alone consumes billions of gallons of Diesel fuel every year in the transportation sector alone. Scale these numbers on a global scale and add the consumption of other industrial sectors to understand how much the world relies on fossil fuels.
Given the vital role of fossil fuels in key processes, many businesses maintain fuel inventories for continuous and uninterrupted operations. However, handling and storing volatile substances like fuel and Diesel is a challenging task. You need to ensure the reliability and long-lasting performance of the fuel while following all safety protocols.
The Challenges of Storing Fuels
Designing a fuel storage tank requires careful considerations and attention to detail. Multiple things can go wrong and even a small negligence can have serious consequences. Exposure to certain microbes or environmental contaminants can waste your entire inventory or permanently harm your infrastructure and crew. Fossil fuels, themselves, are corrosive, so you have to account for the material properties as well.
Apart from the technical challenges, designers need to account for the management issues as well. In many instances, permanent storage units can't cope with the dynamic industrial demands. Similarly, you might also need a temporary storage solution depending on the conditions of the market. For such applications, there is a viable solution that can help you achieve the same results but with enhanced portability and freedom. 
Flexitanks: An ideal Temporary Storage Solution
Flexitank is an excellent temporary fuel containment solution that can perfectly replicate the safety and protective features of a permanent tank. Even for non-traditional or unique applications, Flexitanks can be designed to meet your requirements. 
A flexible-fuel storage tank can be designed to meet the requirements of virtually any application. In general, fuel bladders must provide:
| | |
| --- | --- |
| | |
| Excellent structural properties | Compact when empty (flexible) |
| Easy, minimum maintenance | |
| Low bacteria development risk | |
Characteristics of a Perfect Flexible Fuel Storage Tank
To deliver the aforementioned benefits, the fuel storage tank you are designing must have a few qualities. These qualities are mainly determined by the technical textile you are using for the tank. Selecting an appropriate technical textile is a crucial task in the design process as it often decides if a Flexitank is suitable for a particular application.   
The technical textiles you select for fuel storage must deliver strength and flexibility, yet be extremely resistant to wear, punctures, and corrosion agents in fossil fuels.  Most flexible tanks are manufactured from 1100 to 1880 -Dtex, TPU-coated nylon, or polyester, though other alternatives are available.  
When deciding on a material for your fuel storage tank, you must consider the material's compliance with industry standards, its history in the field, its performance in adverse environmental conditions, its safety features, and finally its compatibility.
Here's how Erez can help you achieve all of that and deliver the best materials for your Flexitanks. 
1 – Compliance with MIL-SPEC Standards
Given the sensitive nature of their applications, militaries have very exacting standards and require flexible tanks to pass over a dozen tests before deployment. These include tests for aging, temperature, hydraulic surge, gunfire resistance, and more. Moreover, they want to ensure that the storage tank's construction makes it impossible to transmit fuel to the sealant. 
Erez's coated textiles for a fuel storage tank meets all of the military and MIL-T specifications.  Moreover, EREZ coated textiles are also approved by international certification bodies for potable water and aquatic food including the FDA, NSF/ANSI 61, WRAS, and AS/NZS 4020:2005.
2 – Successful Experience in The Field
Erez is a world leader in the production of innovative coated textiles for a wide range of flexible storage tank applications, including pillow tanks, onion tanks, and flexitanks. For more than 30 years, Erez has supplied coated technical fabrics for top brands in the flexible-storage-tank industry worldwide. 
Erez materials are thoroughly tested to ensure extreme resistance to chemicals, abrasion, and punctures, as well as high UV stability and extreme low-temperatures. Erez coated textiles also offer excellent mechanical properties. They are specifically designed to enable liquids to be safely stored for extended periods. Their durability enables tank transport by any means including truck beds, trailers, containers, helicopters, airplanes, and by hand.
3 – Resistance to Cold and Hydrolysis
Flexible tanks must be able to withstand all types of conditions from extreme heat to extreme cold. Under extreme cold, some materials can become stiff or brittle. TPU-coated nylon or polyester made by Erez keeps its flexibility even under the harshest conditions. 
Our tank materials are also extremely resistant to hydrolysis, even under extreme heat. So, tanks manufactured with Erez textiles have a long service life.
4 – Encapsulated Edges (EREZ edge)
Erez is one of only a few manufacturers that can provide an encapsulated edge membrane for your tanks. This cutting-edge technology encloses the membrane edges to prevent liquids from leaking out from the tank through the base textile.
5 – Compatibility Approval
The Erez technical team provides valued tank customers a service whereby we assess the compatibility of our various tank membranes with any liquid requiring storage or shipping in a flexible storage tank. 
Key Takeaways
Designing flexible fuel storage solutions is a crucial responsibility with little to no room for mistakes. Even small issues can have serious environmental, safety, and economical consequences which can severely impact your business' standing in the market. 
By making sure you are selecting the right materials for your Flexible storage solution, you can minimize or even eliminate the chances of accidents and other hazardous events. Erez has been in the market for quite a while and can deliver the quality materials you need to ensure perfection. Contact Erez today for a free consultation and see how our expertise can solve your flexible storage challenges.