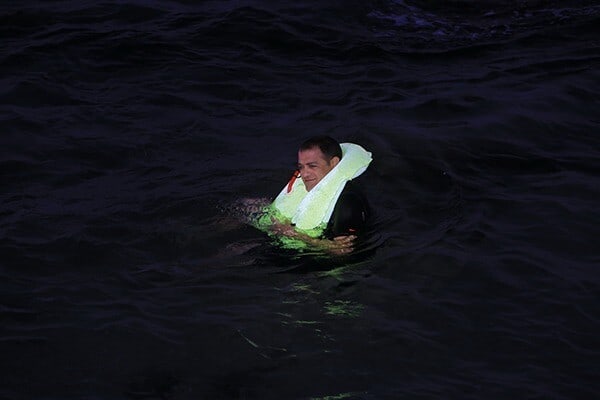 In today's increasingly competitive market, technical textile product manufacturers constantly try to differentiate their products in order to stay ahead of the competition and gain a market advantage. GlowSpot, a patented retro reflective fabric material can be applied in the external layer of any technical textile, manufacturers can now differentiate their products and offer game-changing, and possibly life-saving, advantages for a wide range of applications.
GlowSpot® Technology
After years of extensive research and development, Erez developed a revolutionary retro reflective technical textile layer. GlowSpot® is an Erez patented retro-reflective technology where an optimal quantity of light reflective particles are embedded in the matrix of a polymer material, exhibiting multiple advantages over existing retro-reflective technologies such as pre-dyed fabrics, retro-reflecting paint or mirror layer coating.
This Retro reflective fabric technology allows for the creation of highly reflective, durable and flexible retro reflective fabrics with exceptional color stability, enabling performance improvements on existing products as well expanding the use of retro-reflective technical fabrics to new fields of application.
Make your retro reflective fabric products stand out
Using GlowSpot® provides many commercial advantages to technical textile manufacturers, like increased product visibility, durability and production efficiency.
Next level product visibility
Textile products made with GlowSpot® are 5 times more reflective than standard coated textiles. This means for example that a Personal Flotation Device (PFD) produced with GlowSpot® technology will have increased visibility day and night, increasing the chances of a successful search & rescue mission.
Retro reflective fabric with proven compliance & durability 
GlowSpot® is a technology that has a minimal effect on the color hue of the technical textile, retaining the fabric's color stability and luminance over time. Moreover, GlowSpot® can withstand harsh environmental conditions and prolonged exposure to the elements, while remaining within specification. These properties make it ideal for use in marine safety applications where the importance of material performance and regulatory compliance is paramount.
GlowSpot® is ISO 12402-7 approved for life jackets and UL 1191 certified for PFDs.
Easy & efficient production
GlowSpot® technology can be applied on a wide variety of regular coated technical textiles, that are already proven to be easy to work with. All Erez textiles can be easily welded using hot air, high frequency, or hot wedge welding. This means you can easily introduce GlowSpot® textiles in your existing manufacturing and product line, and retain the required flexibility for future production process improvements or upgrades.
Develop new & exciting products
Existing retro-reflective technologies such as pre-dyed fabrics, retro-reflecting paint or mirror layer coating, have either limited reflectance, mask the color of the fabric or can easily wear, crack and flake. These limitations constrict their usage in applications with small reflective areas. GlowSpot® technology exhibits extraordinary durability and stability, enabling the manufacturing of products with large retro-reflective surfaces as opposed to previously available retro-reflective fabrics, opening up new product possibilities.
With GlowSpot® technology, manufacturers can contemplate the construction of products with large fully retro-reflective surfaces, instead of the small retro-reflective stripes and details typically included. One example would be the construction of fully light reflective throw overboard inflatable life rafts, to dramatically increase their safety features and also differentiate from the competition. Another example is the manufacturing of RIB's that reflect light throughout their entire hull, making them extremely easy to identify and consequently safer at night or in low lighting conditions. Glowspot's increased durability and retro-reflectiveness offers endless product possibilities.
Join Erez this week at METSTRADE 2018 in Amsterdam to consult with an expert and discover how you can fit GlowSpot® technology in your manufacturing process to upgrade or expand your product range.