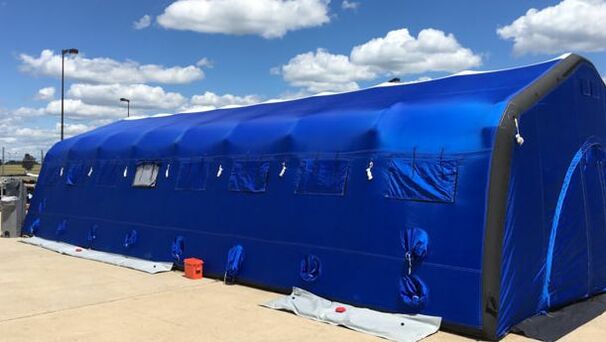 As a tent or air shelter supplier for military, field hospital or even an entertainment event, your challenge is in creating products that meet the qualities needed to create a functional, safe and comfortable space per the application. The fabric you select plays a critical role in determining the reliability of your application, and that's where Erez can help you.
Tent Fabric Considerations
Most of your end-product's technical factors and characteristics start with the tent fabric you select. Everything is directly linked to the fabric, from its capability to handle excessive weather conditions to its mobility. Therefore, making the right choice is crucial. The applications of your customer's will indefinitely vary as per the industry and the intended use of the tent. Moreover, expected challenges in the field will also influence customer requirements. As a producer, you are responsible for understanding your customer's needs better and before they do. In your R&D phase of product development you will confront the following factors to consider before selecting a tent fabric:
1 – Climate
The climate is the first point of consideration. Suppose you use a fabric designed to contain heat, and the intended area where the tent is meant to be used is in the desert. Obviously, it would be uncomfortable for the people inside the tent. Similarly, you wouldn't want a more breathable material for use in extremely cold environments.
Temperature maintenance is another aspect that needs your attention. Let's consider that you're designing a tent with an AC port. You'll have to ensure that your selected fabric doesn't heat up too soon to ensure optimum comfort.
2 – Intended use
Similar to the climate, the intended use of the tent also plays a critical role in fabric selection. Depending on the tent's purpose, you'll have to design a tent with every appropriate feature to ensure durability and optimal performance. Any mistake in this regard can have disastrous consequences.
A sensitive environment might require protection against mold, mildew, and other similar issues that can develop in damp conditions. Here, you'll have to consider selecting an inflatable fabric compatible with decontamination.
3 – Machinery required
Several types of tents need appropriate machinery to deliver optimal performance. Inflatable tents are one example, requiring an air compressor to retain their shape. The constant inflation and deflation can put severe tensile stress on the internal structure of the tent. The fabric you select should be strong enough to withstand that pressure.
4 – Durability
Ensuring the durability of the tent fabric as per the intended use is a critical factor. For any field use, the tent fabric you select should be abrasion-resistant and must be able to continue operating even after taking minor damage.
Other factors to consider include materials suitable for heat sealing and field repair. If the intended application is intensive, the fabric you select should be built for longevity and must be damaged resistant in the long run.
Durability isn't just related to rough use. But instead, you should also consider the overall UV resistance of your selected material. For instance, many typical outdoor applications have consistent UV exposure, which, if not considered, can damage the structural integrity of your tent. If the intended use is in areas near the equator or in the middle of a scorching desert, you must select a high UV-resistant tent fabric.
5 – Portability
If your tent is too heavy to move, it might as well be a household decoration. The weight of your tent is as essential as the aforementioned factors. The weight determines the mobility and portability of your end product. Your end-user will most likely prefer a lightweight alternative if it's too heavy. You must find the right balance between the essential qualities required and the overall weight of your tent's fabric.
Introducing the TPU 1001 PFR by Erez: A revolutionary tent fabric for all conditions
Industrial applications require tents that meet their exact specification. Any deviations from the requirements significantly impact your end-users capability to perform on the job. Choosing the wrong tent will eventually lead to productivity loss.
The TPU 1001 PFR is a revolutionary product offered by Erez that has every required characteristic in terms of a tent's quality, reliability, and mobility. The fabric is the perfect choice for all types of situations and conditions. Be it a military command center, a relief camp, or anything else, the TPU 1001 PFR is the best choice to survive the harshest conditions.
Here are some noteworthy qualities of the TPU 1001 PFR tent fabric by Erez:
Flame resistance
Lightweight
Easy to clean
Multiple color options
Resistance to abrasions and other physical damages
UV Resistance
Resistance to microbes, molds, and other issues
Waterproof
That's not all! Besides being multi-functional, the TPU 1001 PFR comes backed with Erez's decades of field experience. Erez is the leading name when it comes to innovation and experience. It's the perfect partner to deliver you the finest technical textile solutions.