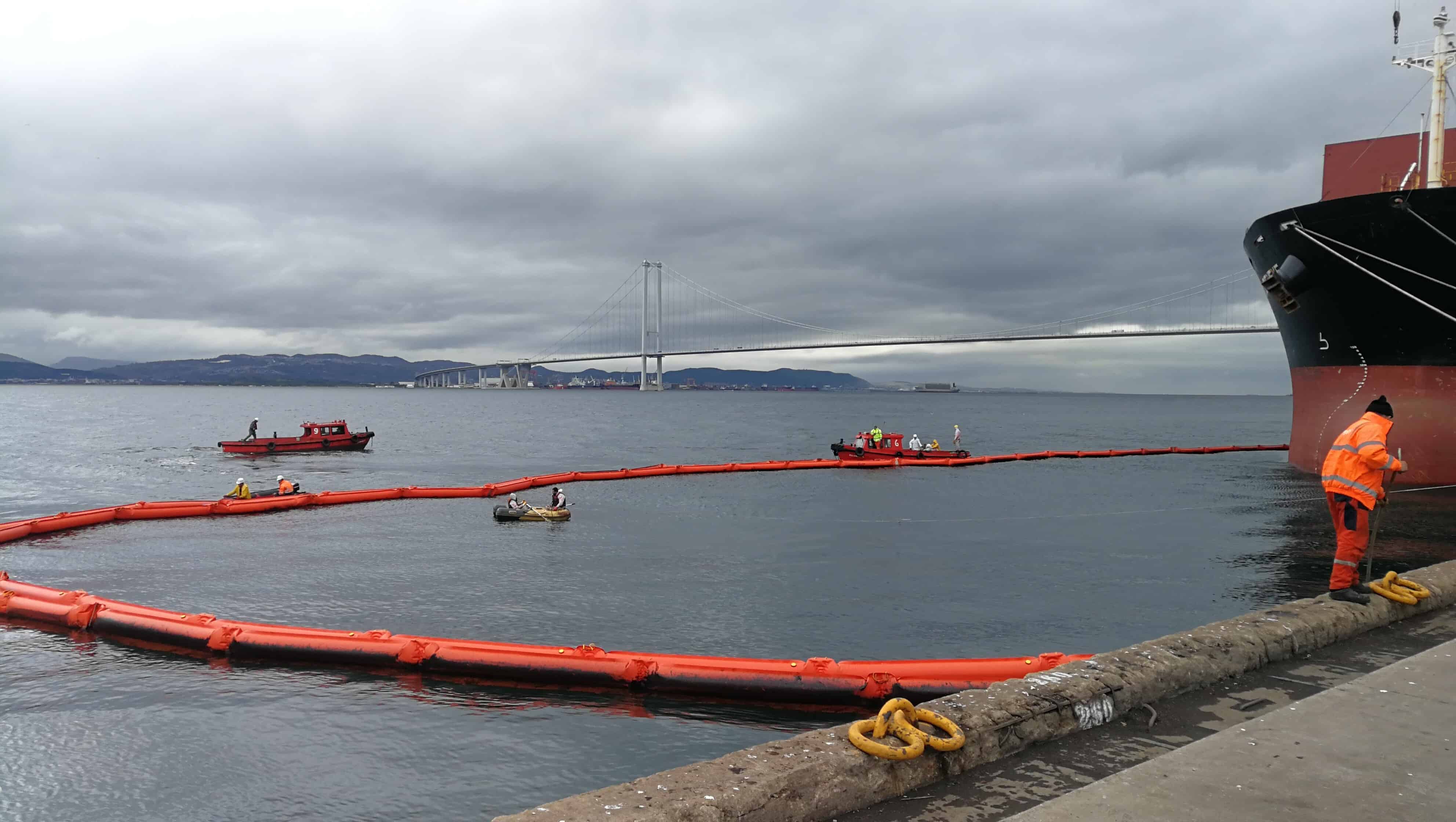 THE IMPORTANCE OF ENVIRONMENTAL CONTROL
 If your company deals with environmentally hazardous liquids, there's a good chance you're required by the government to have a response plan in the event of a spill. Your plan might need to include contingencies for spill prevention and control, as well as appropriate countermeasures.
Often, meeting spill containment requirements involve placing physical barriers around the site of a potential spill, either prior to an event or after its occurrence. The main function of spill containment efforts is to prevent a discharge of oil or other hazardous materials into the environment. Water resources, both on the surface and in the ground, are particularly susceptible to contamination from liquid spills. In addition, spill containment may play a role in recovering and recycling of the spilled material.
CONTAINMENT PLAN WILL SAVE MONEY IN THE EVENT OF A SPILL
Devising a thorough containment plan and understanding the role of coated textiles in liquid containment can save your company a significant amount of money in the event of a spill. Once a spill is able to spread, the cumulative costs of environmental damage, human injury, and lost product increase dramatically.
SPILL CONTAINMENT TYPES
When it comes to containing a spill, there are several different options. We'll focus on liquid containment barriers, since these tend to have larger spill capacities than absorbent spill kits and don't need to be disposed of after use. Importantly, liquid containment barriers can also facilitate hazardous material recovery, whereas absorbent kits are only useful for clean-up.
Berms & Bund Liners
Berms and bund liners are shallow containers that are placed on the ground under a protentional spill or leak to catch and retain fluids. They can be constructed out of any material that is resistant to the chemical properties of the spilled agent, including steel and concrete. But, more often, spill barrier bunds are constructed from coated textiles such as thermoplastic polyurethane (TPU), polyvinyl chloride (PVC), or EVA Alloy.
These materials have the advantage of being flexible, portable, and lightweight, making them suitable for a wide variety of applications and for emergency spill responses. Coated textile spill barrier bunds come in various designs, including inflatable designs and bunds with self-rising sides that rise as the liquid level increases. Additionally, they are available in virtually any size needed—some are even large enough and tough enough to allow trucks to drive over them. Textile berms and bund liners may be permanently placed under machinery to act as precautionary containment or they may be deployed after a spill occurs.
Booms
Booms are long tube-like liquid containment barriers deployed on open water. They are filled with buoyant material or are inflatable, allowing them to float on the surface. Booms also have skirts that hang below the water to help prevent oil or other liquid contaminants from escaping the barrier as a result of wave action. Some types of booms contain absorbent padding or materials that can help clean up spilled agents (although absorbed materials are not easily recoverable).
Booms are typically constructed from tough, flexible technical textiles. They are simple and simple and quick to deploy, making them a favored tool for emergency spill responses. In addition, very long booms may be built with loops on top through which wire can be passed, making them more manageable for large-scale spill containment.
Finding the Right Liquid Containment Barrier
When it comes to determining what type of liquid containment barrier you need for a potential spill, there are several important factors to consider. First and foremost, the type of coated textile material you use must be matched to the chemical agent that it is meant to contain. For example, EVA Alloy is well-suited for containing crude oil and gasoline products because it does not react in the presence of these chemicals. PVC, on the other hand, maybe used for liquid containment of less corrosive chemicals such as fertilizers, greywater, and the like.
It's also important to consider the environment in which a spill could happen and the size of the potential spill. Berms and spill barrier bunds are primarily suitable for land-based spills. For these liquid containment barriers to function, they must be larger than the size of the spill, or else they may overflow. Booms are suitable only for spills in an open water environment, such as on a lake, river, harbor, or the open ocean. The material to be contained by booms must remain on or near the surface in order for the boom to be effective.
EREZ PRODUCTS
Erez coated technical textiles have an established history of outstanding performance in the harsh environmental conditions that accompany many spill containment operations. They are particularly well-suited for uses where exposure to chemicals, UV radiation, and severe weather and wear are common. Our modern coated textiles offer excellent mechanical properties, maintaining flexibility and durability for extended periods—even under extreme hot or cold conditions.
Erez is a world leader in the production of innovative coated textiles for applications such as spill containment and offshore preventative measures, and for over 30 years has supplied coated technical fabrics for top brands in the environmental control and protection industry. All Erez coated technical textiles are thoroughly tested and are approved by the major standard certification bodies internationally. Available in a wide range of TPU, PVC, EVA, and PVC/PU blends, all Erez products are glueable and weldable by HF and Hot Air. Environmental control and liquid containment barrier applications include oil booms, barriers, flood and spill protection, spill control, berm liners and secondary containment, and inflatable dams.
Ready to develop a spill containment plan for your business? Talk to one of our trained staff and let us help solve your containment problems today.
Talk to one of our trained staff today and let us solve your containment problems today.