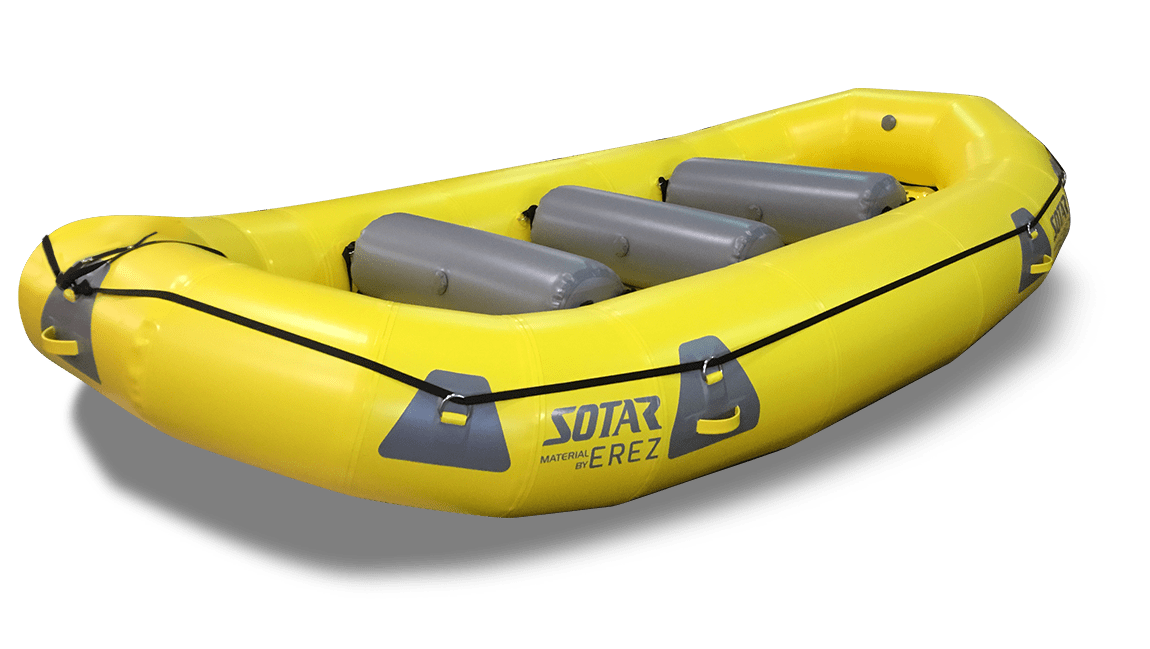 As river rafting transitioned from an unusual hobby to a mainstream outdoor sport in the 1970s and 1980s, Glenn Lewman recognized the need for better boats. At the time, nearly all rafts were made from PVC simply because it was inexpensive. But Lewman saw the potential of another material – TPU – that would offer superior durability and raft design.
This is the story of how Glenn Lewman and his company, SOTAR, set a new standard for raft construction and how Erez TPU has been key to SOTAR's success.
About SOTAR
Merlin, Oregon-based SOTAR has been making rafts since 1980, when founder Glenn Lewman began operating out of his garage. The company achieved fame in the rafting community for producing one of the first self-bailing rafts and has since pivoted towards making premium rafts for guiding companies and experienced recreationists. SOTAR specializes in designing and producing custom rafts.
SOTAR is now run by Glenn's son, Jeremiah Lewman, and exclusively uses Erez TPU for all of its rafts, tubes, and inflatable boats.
The Challenges: Fabric Selection and Manufacturing
Prior to switching to TPU, SOTAR—along with most other raft manufacturers at the time—was building boats primarily out of PVC. However, the company quickly found that PVC is less than ideal for performance. 
A boat's ability to quickly respond in rapid waters is an important feature. Boats made from PVC coated fabric will slowly lose air pressure which will affect the boat's stiffness and thereby slow down the boat's response.
In addition, PVC lacks the durability that rafting demands. This material won't easily slide over river rocks, and extremely prone to puncturing if it catches on sharp volcanic rocks.
Finding the right fabric

SOTAR first made the transition to TPU in the 1990s, which they believed would overcome the deficiencies of PVC coated fabric. But there were a number of manufacturing challenges along the way. One early supplier had coating issues that led to delamination over time. Another experienced welding temperature issues that caused seams to fail within a year of use. These issues made it clear to Lewman and the rest of the SOTAR team that finding a reliable, high-quality textile supplier would be essential for the company's success.  
The Solution: Finding the Right Textile Manufacturer 
SOTAR tested Erez TPU over 20 years ago and found that its strength and welding consistency is far superior to what other manufacturers offer. There are several major benefits that Erez TPU provides that play key roles in building a premium raft.
The Advantage of Erez Coated Fabrics

TPU-coated polyester
Most raft manufacturers use a nylon base fabric. The disadvantage of using nylon is that it will wick water and wet out once the coating is scratched. Sotar, therefore, uses an Erez polyester base fabric that is protected from wetting and peeling over time. Additionally, the Erez TPU coating adheres extremely well to the polyester base cloth, which prevents cracking or separation which will cause air leaks.  This TPU-coated polyester by Erez is also extremely consistent for welding. Seams can be easily welded together while remaining resistant to tears and abrasion.

The Erez Aliphatic Coating
Perhaps one of the most important features of the Erez TPU, for SOTAR and its customers is the aliphatic coating. Erez aliphatic coating has many advantages, especially in contrast to the more commonly used aromatic TPU. The first feature that stands out in the comparison is UV-resistance. Erez aliphatic coating is UV-resistant and prevents the boat fabric from losing its color over time. Using Erez aliphatic coating, Sotar can offer its customers a wider variety of color customization than they'll find anywhere else (including white which doesn't brown). 
Other key advantages of using Erez aliphatic coating include preserving flexibility and durability throughout the raft's lifetime. Using the aliphatic coating allows SOTAR's boats superior abrasion resistance while also making the raft slippery, making it easier for them to slide over rough rocks and obstacles.

Results
SOTAR has positioned itself as a high-end raft supplier, using Erez's premium TPU to build rafts that are simply superior in durability and performance to most other rafts on the market.
In fact, SOTAR has essentially cornered the market for advanced rafters and guiding companies. Jeremiah Lewman, the company's COO, points out that SOTAR's business has been booming as experienced rafters are entering retirement and looking to purchase the best river rafts that money can buy. For many of them, there is no question that SOTAR rafts built with Erez TPU are the top-performing models.
On top of that, Erez has worked with SOTAR to help this company focus on custom rafts and other specialty projects. Unlike entry-level raft manufacturers, SOTAR doesn't typically sell dozens of models of the same raft. Instead, the company works with individuals to design the perfect raft for them—dialing in everything from the tube diameter and the boat length to the webbing and D-hooks.
To achieve this, SOTAR relies on Erez its partner of over two decades – to remain flexible and to quickly adjust to changing order specifications. Erez keeps stock on hand and works with SOTAR to predict what features customers are likely to want in the coming season. In addition, Erez can ramp up TPU production in early spring, just as the bulk of SOTAR's orders are coming in ahead of the summer rafting season.
"Erez is great about working with our regular workflow, making sure they have inventory on hand, and getting us material when we need it. The best thing about Erez is that they listen to our needs." Says Jeremiah Lewman. And continues to describe the benefits in working with Erez, "Erez TPU material is stronger than the strapping we were using on our boats, so we started making all of our components out of the same TPU material. It saves so much hassle. We're a pretty small manufacturer, so being able to minimize the supply chain to just one source material really helps."
Achieving Results with Erez Textiles
For SOTAR, Erez is more than just a supplier—we're also a partner. Our experts work with manufacturers to help them get the fabrics they need, adjust to their workflows, and help meet custom orders and special projects.
If you're interested in finding out more about Erez TPU and how our experts can help your business, contact us today.