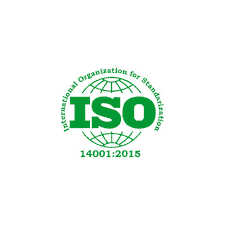 ISO 14001:2015 environmental management system is a standard for any organization that wishes to commit to sustainability by systematically implementing environmental practices into its operation.
From the ISO website: ISO 14001:2015 helps an organization achieve the intended outcomes of its environmental management system, which provide value for the environment, the organization itself and interested parties. Consistent with the organization's environmental policy, the intended outcomes of an environmental management system include:
enhancement of environmental performance;
fulfilment of compliance obligations;
achievement of environmental objectives.
ISO 14001:2015 is applicable to any organization, regardless of size, type and nature, and applies to the environmental aspects of its activities, products and services that the organization determines it can either control or influence considering a life cycle perspective. ISO 14001:2015 does not state specific environmental performance criteria.
Know What Your Committing to and Why
In order to be eligible for certification, there are internationally recognized steps that a manufacturer is required to take. But, why is the iso 14001 certification important to an organization?
The short answer is that obtaining the certification demonstrates that a manufacturer is taking meaningful steps toward an environmentally minded operation. The ISO 14001 standard is not mandatory and it's not an industry requirement.
For Erez, quality and sustainability are among our core values and we believe that announcements are not enough. Action is needed and it is our moral responsibility to implement it where we can in our day to day operations along side our commitment to go the extra mile in delivering added value for our customers.
TALK TO A TECHNICAL TEXTILE EXPERT TODAY
Compliance Requirements for the ISO 14001 Certification
Obtaining and maintaining ISO certification status requires any business to follow a stringent set of standards. 12 of the most essential ones are listed below:
Demonstrate operational processes at an efficient and effective level, with built-in mechanisms of measurement and identification for correction and improvement.
Demonstrate sales process for sufficiently meeting customer's requirements with a system for ensuring high levels of quality and service.
Demonstrate constantly reduce and prevent the risks, hazards, and pollution to natural resources, the environment, and the community, for the mutual benefit of all involved.
Demonstrate systems for compliance with applicable laws, orders, and regulations for the protection of the environment and the safety of all employees and subcontractors.
Collaborate with the company's customers and suppliers to help them improve the impact of their business activities on the environment especially at the interface points with the company's activities.
Implemented processes for reduction of the consumption of consumable resources and raw materials that have an impact on the environment and strive to eliminate dangerous impacts on the environment as a result of the Company's activities.
Act to increase awareness of the need for protection and improvement of the environment.
Work with the community for protection, to improve the environment.
Ongoing management surveys and setting annual goals for quality system, its suitability, and efficiency.
Ensured availability of necessary resources for the management and control of the quality system and human resources.
Demonstrate continuous improvement in all company systems and the development of products and services.
Implemented system for managing the environment both in business development and streamlining savings.
The process for obtaining an ISO 14001 certification
Erez has been in the thermoplastic technical textile market for many years and remains committed to providing the best quality materials to its customers. From the start, Erez's standards have been extremely strict and that helped it during the certification process.
There were little to no major challenges for Erez from a quality or sustainability standpoint. All Erez had to do was to revamp the existing processes and bring them in line with the requirements of ISO 14001 standards. To do that, Erez enlisted the services of an external consultant specializing in the ISO 14001 standards to seamlessly navigate through the requirements.
The consultant accompanied Erez from the beginning and helped prepare the plant. It all started with an in-depth understanding of the environmental issues that stem from the ongoing processes. After a thorough understanding, the next step was to create strict work procedures and SOPs that minimize the identified issues and are in accordance with international standards.
It's never enough to simply come up with new rules and procedures and expect a difference. Erez also took the necessary steps to embed all these processes within the organization. All employees were given the necessary training for quality and sustainability to become second nature for the organization.
Finally, the process for Erez doesn't just stop here. The Erez team consistently aims towards optimizing our processes and saving resources. From production to waste treatment and logistics, Erez is continually improving all aspects of its operations to create the perfect balance between profitability and sustainability.
What changes for Erez and its customers with the certification?
The whole world is moving towards sustainable technologies and processes because of increased awareness among both customers and businesses.
For businesses, sustainability is a question of moral and ethical responsibilities and meeting the expectations of their customers. Moreover, many governments and agencies, especially in the developed world, have also created new regulations and processes to ensure minimum damage to the environment.
By working with an ISO 14001 certified business, you will be able to ensure that your entire value chain doesn't pollute any natural resources. Depending on where you primarily operate, many thermoplastic technical textile products have to ensure compliance with several regulations like REACH. Having an ISO-certified supplier can help you navigate those challenges and remain in control.
Key Takeaway – Always Stay One Step Ahead
Erez has been an industry leader in the thermoplastic market for many years and continues to stay ahead of the competition by focusing on innovation. From optimizing the existing processes to maintaining the strictest quality standards and considering sustainability at every turn, Erez stays committed to continuously improving and enhancing the value it delivers.
Continuing on that tradition of maintaining excellence, Erez has now successfully achieved the ISO 14001 Standard. It is a testament to the company's focus on maintaining unparalleled quality standards while caring for the environment.
Focusing on quality and sustainability has allowed Erez to set itself apart in the competitive thermoplastic technical textile market.